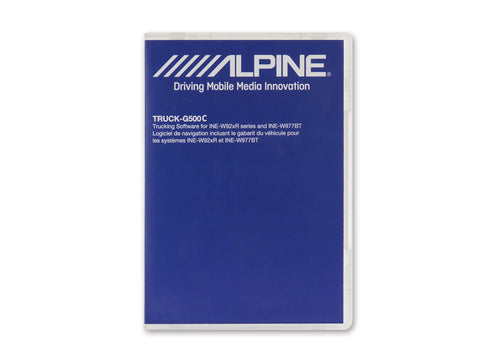 TRUCK-G500C - Trucking Software for INE-W92xR series, INE-W977BT
TRUCK-G500C - Trucking Software for INE-W92xR series, INE-W977BT
TRUCK-G500C: Professional Navigation solution for trucks (heavy goods vehicles), mobile homes and caravans. TRUCK-G500C works with the 2DIN Navigation Systems INE-W920R / INE-W925R / INE-W928R/ INE-W977BT.
Information:
TRUCK-G500C contains map data Q4/2017 and offers a 30 days free of charge map update after the installation.
The map data can be always updated on the TRUCK-G500C SD-card, followed by the instructions inside of the Installation Manual, which can be downloaded under Support.
Map updates can be downloaded from here https://alpine.naviextras.com.
Please note: TRUCK-G500C has to remain inside the SD slot in order to make the navigation function available. A misuse of the SD-card will destroy the navigation function and can not be recovered. Please contact Alpine in case of any questions.
TRUCK-G500C considers following restrictions and limitations by calculating the route and also gives warnings whilst driving without calculated route in 39 countries*:
General through traffic restrictions for trucks (i.e. environmental zones)
Through traffic restrictions for all categories of dangerous goods
(i.e. explosives, flammables)
Turn and U-Turn restrictions for trucks
Restrictions for trailers
Limitations of length
Limitations of width
Limitations of height
Limitations of weight
Height and width limitations of tunnels and bridge pass throughs
Maximum allowed weight of bridges
* Andorra, Austria, Belgium, Bulgaria, Croatia, Czech Republic, Denmark, Estonia, Finland, France, Germany, Gibraltar, Greece, Hungary, Iceland, Ireland, Italy, Kosovo, Latvia, Liechtenstein, Lithuania, Luxembourg, Monaco, Netherlands, Norway, Poland, Portugal, Romania, Russia, San Marino, Serbia, Slovakia, Slovenia, Spain, Sweden, Switzerland, Turkey, Ukraine, United Kingdom